World Sea Turtle Day: Turtles In Trouble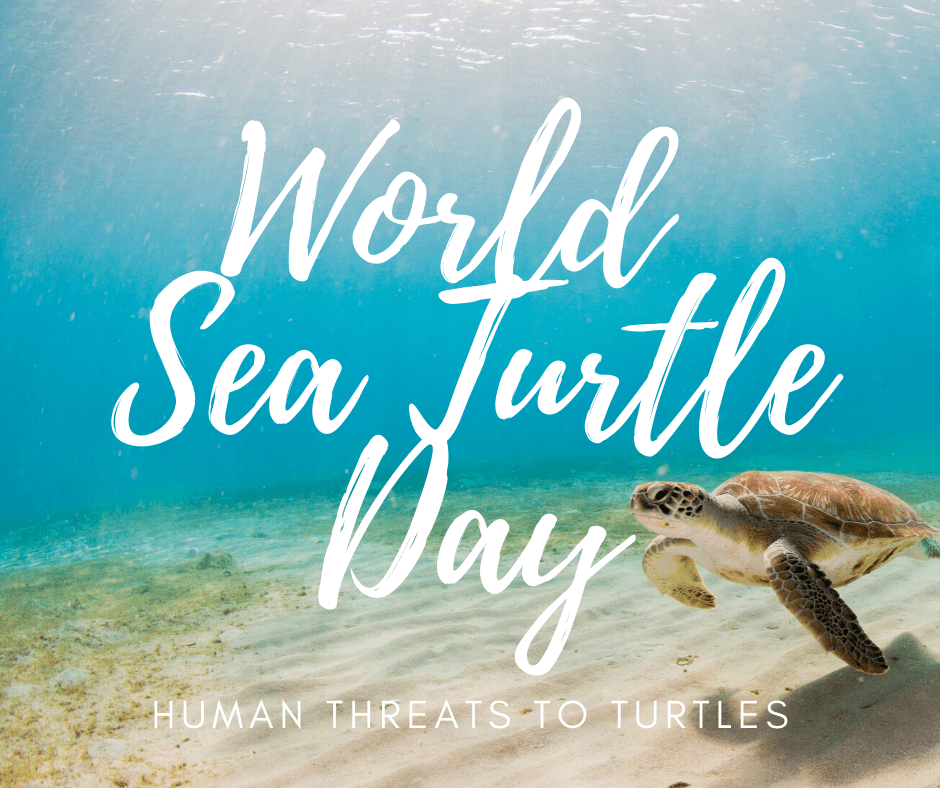 June 16 marks World Sea Turtle Day and Loggerhead Marinelife Center (LMC) encourages global supporters to dive into the threats that sea turtles currently face. Unfortunately, many of the dangers presented to marine life are from anthropogenic (human-caused) sources. Turtles can also suffer from ranging injuries, including marine debris ingestion, marine debris entanglement, and unintentional boat strikes. And sadly, sea turtles remain at risk at the hands of poachers.
In a year alone, LMC typically rehabilitates more than 100 sea turtles and 1,000 hatchlings. To combat this phenomenon, LMC works to assess and catalog the injuries and ailments its patients suffer from to help create public education programs and conservation initiatives.
The scope of threats that sea turtles face, in the ocean and on land, have dwindled sea turtles populations over time. As a result, every single sea turtle species has been classified as threatened, endangered, or critically endangered. Therefore, it's in LMC's lifework to spread awareness and prompt innovative solutions to save sea turtles. On World Sea Turtle Day, we asks our global supporters to be a part of the conversation with our patients in the mix!
Entanglement
Entanglement from poorly discarded fishing line, ghost fishing gear, or marine debris pose extreme risks to sea turtles and marine life. The main type of marine debris found in our oceans is ghost gear, which encompasses any fishing gear, nets, or lines that have been abandoned, lost or otherwise discarded in the ocean. These items are a constant threat to sea turtles and marine life, including manatees, dolphins, and sharks.
Derelict fishing lines may cause constriction wounds, possible infections and amputations. Additionally, ingesting discarded lines can also cause internal damage, the inability to swim, or potential drowning.
Every year, LMC's sea turtle hospital receives patients that have been victim to entanglement and marine debris, including Brody, Intrepid, and Today.
Brody. Brody, an adult male loggerhead sea turtle, arrived at the Center with fishing line wrapped around his neck, causing deep constriction wounds. Radiographs also revealed that he had ingested quite a bit of fishing line. Brody was brought to our hospital because he had ingested fishing line – one end was wrapped around his neck, causing deep constriction wounds where he had struggled against the line, while the other end that had been swallowed was embedded in his jaw and trailed from his cloaca. The turtle passed 14 feet of fishing line through its digestive system.
Intrepid. Intrepid, a sub-adult Kemp's ridley sea turtle, arrived at LMC's sea turtle hospital with fishing line wrapped around its neck and right flipper. The fishing line caused constriction injuries to the turtle.
Currently, Brody and Intrepid are receiving treatment at LMC until they are cleared to return to the ocean.
Unintended Boat Strikes
LMC monitors and protects 9.5-miles of our sea turtle nesting beaches, which is deemed one of the most densely populated sea turtle nesting sites in the world. During sea turtle nesting season, between March and October, thousands of sea turtles reside off the coast of Florida.
But when sea turtles surface to breathe, and mate, it potentially puts them in the path of boats. With summer months upon us, more unintentional boat strikes may occur.
Our rehab staff sees a 91% mortality rate for sea turtles hit by boats. And even when a sea turtle makes it to LMC, there is still a low chance of survival due to the extent of their injuries. Each year, the Center receives patients unintentionally hit by boats, such as Galapagos and Topsy.
Galapagos. Galapagos, an adult male green sea turtle, arrived nearly a year ago after being found floating and unable to dive offshore of Jupiter. LMC's rehabilitation team discovered that the turtle had a previous boat strike injury to the back of his carapace and fresh boat strike injuries on his right marginal carapace. Galapagos is still being monitored as he is treated for buoyancy disorder and his unintended boat strike injuries.
LMC's Conservation Initiatives
To reduce the amount of marine debris in our oceans, LMC regularly hosts beach and underwater cleanups to steer conservation guidelines and policies. Additionally, we've created and partnered with community programs designed to reduce waste. These initiatives include balloon bans for coastal parks and beaches, the Blue Table Restaurant program, the Responsible Pier Initiative and a Monofilament Recovery and Recycling program.
Responsible Pier Initiative (RPI). The Responsible Pier Initiative was developed to work collaboratively with anglers to rescue turtles accidentally hooked or entangled on fishing piers. As part of the program, pier attendants are trained to properly respond to an accidentally hooked turtle. To date, the initiative is responsible for the successful rescue of over 540 sea turtles!
Monofilament Recovery and Recycling Program. As the Palm Beach County Coordinators for this program, through the Florida Fish and Wildlife Commission (FWC), LMC has recycled over 312 MILES of plastic fishing line last year alone.
Blue Table Restaurant Program. Our Blue Table Restaurant Program works with local and coastal restaurants to implement the use of sustainable practices. Together, we with the restaurants to select single-use plastic and styrofoam alternatives and offer sustainable seafood choices, such as lionfish.
Save The Turtles
This World Sea Turtle Day, LMC asks global supporters to spread awareness and educate others regarding best practices to help protect sea turtles. Help sea turtles thrive by following and promoting the do's and don'ts below:
Participate in local beach and underwater cleanups to create safer habitats for sea turtles.
Report sick, injured and stranded sea turtles to the official, local authority, such as FWC.
Become a responsible angler. Properly dispose of used fishing gear.
Be cognizant of your plastic use: reduce, reuse, refuse, and recycle.
Select sustainable materials, such as bamboo, 100% cotton, and recycled paper. Also, choose sustainable alternatives (e.g., reusable grocery bags, cups, and straws).
Ask local businesses to consider using sustainable alternatives to single-use plastic.
Properly dispose of chemicals and items so they do not end up in our ocean.
Choose reef-safe sunscreen to keep sea turtles habitats healthy and toxin-free.
Be aware when boating. Look out for marine life on and below the surface. (e.g., wear polarized sunglasses, maintain a slow speed, etc.)
Support sea turtle conservation centers like LMC.
To help propel sea turtle and ocean conservation, please consider making a donation in celebration of World Ocean Month and World Sea Turtle Day
Media Contact:
Lauren Eissey
Public Relations and Engagement Specialist
561-627-8280, x124
leissey@marinelife.org