Renowned Oceanographer, Dr. Sylvia Earle, Inspires Hope At Thirteenth Annual Go Blue Awards Ceremony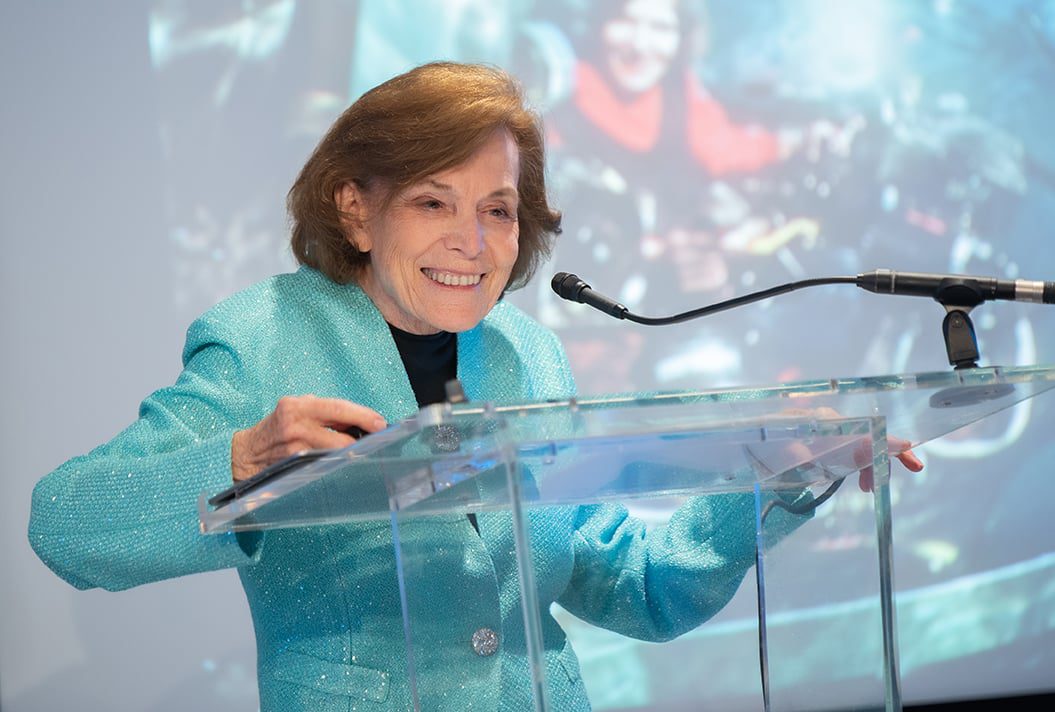 On Friday, October 22, nearly 300 guests attended the Thirteenth Annual Go Blue Awards ceremony in the Ocean Discovery Wing of Loggerhead Marinelife Center's (LMC) newly expanded campus, where they listened to President and Chairman of Mission Blue / The Sylvia Earle Alliance, Dr. Sylvia Earle spread her message of hope for the future of ocean conservation. The celebrated event was hosted by co-chairs and "Go Blue" founders, Lynne and Pete Wells.
Named as one of Time magazine's "Heroes for the Planet," Dr. Sylvia Earle has dedicated her life and career to ocean conservation. As a marine biologist, oceanographer, explorer, author, and lecturer, she has helped pioneer advancements in conservation, as well as inspire an entire generation of environmental advocates. Her more than 225 publications and more than 100 expeditions under her belt have contributed to the scientific advancement regarding ecology and conservation of marine ecosystems and the development of technology for access to the deep sea.
Prior to the event, "her deepness," as Dr. Sylvia Earle is known, participated in a special snorkeling event with students from Gale Academy. The pre-event was made possible by The Marine Industries Association (MIA) of Palm Beach County, Florida Association of Environmental Professionals, Treasure Coast Chapter (FAEP-TCC), and The Jupiter Dive Center (JDC). The legend herself, Dr. Sylvia Earle explored the Phil Foster Park Snorkel Trail in Riviera Beach, FL with 17 Gale Academy students. During the special experience, Dr. Earle reminded the future ocean conservationists "you've got to take care of the ocean or nothing else matters."
Echoing her note to the Gale Academy students, Dr. Sylvia Earle expanded on her message of ocean conservation at the Go Blue Awards ceremony. Referencing the idea of "Blue Hope," she energized the crowd with themes of taking action now, and improving existing systems to allow societies to operate with nature, rather than against it. There will be a renewal of optimism in a better world that we know is possible, that we can, through our individual and collective actions, turn to a new era of respect for the natural systems that keep us alive, and for one another," declared Dr. Sylvia Earle. The renowned oceanographer left guests and recipients of the Go Blue Awards dreaming of a better tomorrow, and invigorated to make a difference.
The Independent Panel of Judges
This year's distinguished independent panel of judges included Gary & Brenda Adkison – U.S. Shark Foundation, Director; Fabien Cousteau – Aquanaut, oceanographic explorer, conservationist, and documentary filmmaker; Greg Marshall – Marine biologist and filmmaker. Inventor of Crittercam; Cristina Mittermier – Sea Legacy Founder and conservationist, Sally Murray – Daughter of LMC Founder, Eleanor Fletcher, and Susan Murray – Oceana Deputy Vice President U.S. Pacific, Granddaughter of LMC Founder, Eleanor Fletcher, Paul Nicklen – Nat Geo photographer, conservationist, and Sea Legacy Founder, Jim Toomey – Creator of Sherman's Lagoon comic strip and former Mission Blue Executive Director, and Kyle S. Van Houtan, Ph.D. – President & CEO, Loggerhead Marinelife Center.
The 2021 Go Blue Awards Recipients
Hosted by LMC, and organized by the Blue Friend Society, the Annual Go Blue Awards recognizes and awards four individuals, one business, and one nonprofit that promotes, implements, or contributes to a "blue" lifestyle surrounding marine conservation. The Center's Go Blue Awards ceremony is recognized as Florida's premier ocean conservation awards event and is judged by an independent panel of globally renowned conservation experts. For the 2021 event, Tiffany & Co. once again, graciously provided the awards for the ceremony. The six award recipients include:
The Eleanor Fletcher Lifetime Achievement Award, named for the founder of Loggerhead Marinelife Center, recognizes an individual who has exemplified a lifelong, extraordinary commitment to marine conservation through their work or volunteer activities.
• Dr. Nancy Knowlton (Washington, DC): An author of more than 260 scientific articles and books, Dr. Nancy Knowlton's dedication to science has spanned decades. Having devoted her career to researching, understanding and conserving the diversity of life in the ocean, particularly on coral reefs, Dr. Knowlton is considered a thought leader in marine sciences. Her work has helped popularize the field of 'ocean optimism,' which focuses on the important progress that has been made in evidence-based conservation. Dr. Knowlton's technical area of expertise is on the responses of corals and coral reef ecosystems to major disturbances. Her work showing that microscopic algae living within coral tissues differ in their sensitivity to temperature has had important implications for predicting the response of coral reefs to global warming. Most recently, she has pioneered the use of DNA barcoding and next-generation sequencing, coupled with standardized protocols, to determine how many species live on coral reefs.
The Blue Ambassador of the Year Award recognizes a person who has made significant contributions to marine conservation through volunteer-related activities.
• Marilu Cristina Flores (Lake Park, FL): In late 2020, Marilu Cristina Flores registered her nonprofit "Conservation Key." Through grant and her own private funding, Flores has acquired a fleet of submersible drones, which she has used to conduct coral surveys and fish population counts in Palm Beach County and along the Florida Reef Tract. Thus far, Flores has used her submersible drones to conduct over a dozen, no-cost surveys for various conservation organizations including: the Florida Department of Environmental Protection, the Reef Institute, and the Surfrider Foundation. Her passion for Florida's coral reefs has led to her tireless efforts to document as much of it as possible, especially the often neglected portions. The results have provided a better and more robust visual understanding of the health of Florida's coral reef tract. In addition, Flores ensures all the footage is uploaded as open source content, available at no cost to anyone who wants to use them.
The Blue Friend of the Year Award recognizes a person who has made significant contributions to marine conservation through work-related activities.
•  Linda Emerson (Jupiter, FL): Before there was a formal environmentalism program at the University of Delaware, Linda Emerson created her own course of study to pursue a career in marine conservation. Since then, she's contributed to the movement by serving as a coastal ecologist, environmental educator, writer, watershed advocate, and public artist. Most recently, in 2014, Emerson founded Wildbluesea. This non-profit organization is dedicated to raising awareness of ocean plastic pollution, emphasizing upstream connections and accelerating individual solution-based choices. Through the organization, Emerson uses strategies based on insight from scientific research, field studies, collaborative discussion, piloting creative initiatives, and the power of the arts to nurture an individual's connection to nature and a blue mind - the neuroscience behind our physical, mental and emotional well-being when humans are close to nature, especially water. Currently, she's in a strategic planning phase to expand Wildbluesea's vision, reach and impact with plans to launch in 2022.
The Blue Hatchling Youth Award recognizes students up to and including 12th grade who have made significant contributions to marine conservation through volunteer-related activities.
• Ryan Moralevitz (Palm Harbor, FL): At age three, Ryan Moralevitz discovered his passion for the ocean and became determined to help improve the health of it. Moralevitz began bringing a bag with him to the beach to remove marine debris from the coast. During one of these beach cleanup trips, Moralevitz witnessed a tire rolling into the ocean, which catalyzed his development of various conservation projects, including the publication of a children's book. Throughout the past ten years, Moralevitz has continued to evolve and expand his conservation efforts - from organizing beach cleanups, to writing a second book, to raising over $12,000 for ocean conservation efforts. In his second book "InspirOCEAN," Moralevitz interviews an array of famous ocean conservationist athletes, artists and musicians in an effort to emphasize the importance of the ocean. Additionally, he makes art sculptures utilizing the trash he collects on the beach and displays these sculptures at several galleries throughout Florida.
The Blue Business of the Year Award recognizes a business that has made outstanding contributions toward promoting and encouraging conservation, restoration, or preservation of marine life and/or marine ecosystems through their business practices, products, or technology.
• MANG (West Palm Beach, FL): Inspired by a passion for conservation, two brothers launched MANG, an apparel company, with the goal to better the planet and their local community. Since 2015, MANG plants a mangrove for every clothing item sold through their company. Mangroves are essential for improving water quality, serving as important habitats for thousands of marine and terrestrial species, stabilizing shores, and trapping carbon to help protect the planet. Since their first mangrove forest planted in North Palm Beach, Florida, MANG has now planted over 353,213 mangroves totaling 142 acres of mangroves across the globe, including the Bahamas and Madagascar. The company uses a well-rounded approach to conservation by not only directly restoring mangroves, but by educating customers on the importance of mangrove habitats and actions to improve the health of the planet. Taking their dedication to conservation one step further, MANG's cotton t-shirts are biodegradable and made without using chemicals.
The Blue Nonprofit of the Year Award recognizes a nonprofit that has made outstanding contributions toward promoting conservation or restoration of marine life or ecosystems through their practices, products, or technology.
• Aquarium Conservation Partnership (Monterey, CA): The Aquarium Conservation Partnership (ACP) comprises 25 nonprofit U.S. aquariums working collectively to advance ocean and freshwater conservation at the local, state, and national levels. U.S. aquariums showcase the wonders of nature, inspiring visitors to care, and more importantly, to take action for conservation. Designed to build on the public engagement power of aquariums across the nation, ACP members engage regionally diverse audiences, working across party lines to build bipartisan support for conservation outcomes in our communities, our states, and our nation. ACP aquariums work to advance four conservation priorities: increase the protection of ocean and freshwater ecosystems, reduce the sources of ocean and freshwater plastic pollution, mitigate the impact of climate change on ocean and freshwater ecosystems, and increase the sustainability of fisheries and aquaculture. In the coming years, ACP is poised to carry out an even more ambitious agenda for U.S. ocean and freshwater health.
*Read recipient and finalist bios at marinelife.org/goblue.
The 2021 Go Blue Awards Sponsors
The Center extends a special thank you to the Co-Chairs, Lynne and Pete Wells, the Go Blue Award committee, and the event sponsors. This year's Go Blue sponsors included, The AMG Foundation, Carrier, Florida Power & Light, Lynne & Pete Wells, KAST Construction, Marine Industries Association of Palm Beach County, Michéle & James Kukla, Kirstin & Telby Turner, RBC Wealth Management, PNC, Morris Animal Foundation, Seven Kings Holdings, Raymond Graziotto, Alice & Brian Waxman, AW Property Co., Pratt & Whitney, Burke Young Photography, Key Private Bank, Florida Crystals, Gunster, Monique Brechter & Steven Heinemann, The Zlotnick Family, Julie & Bart Livolsi, Thomas Kodadek & Ofelia Utset, Chip Block & Leanna Landsmann, Traci Siani, Supermoon Properties, and freedom Boat Club.
Inspired by this year's Go Blue Awards? Make your mark in ocean conservation by donating to LMC's Capital Expansion Campaign.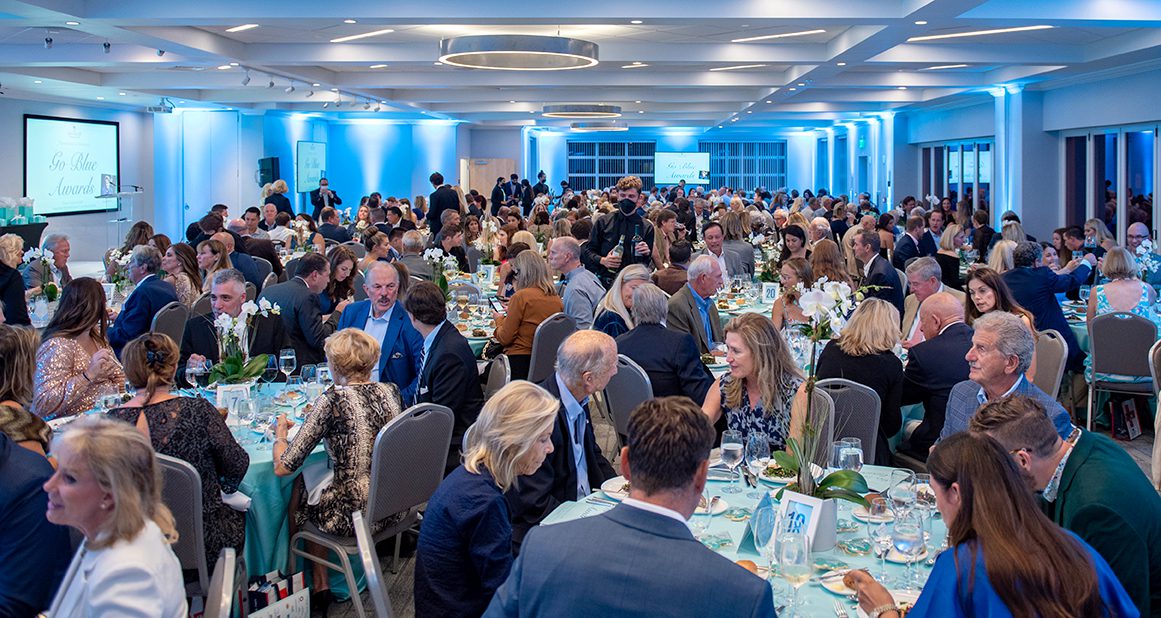 ---
Loggerhead Marinelife Center
Loggerhead Marinelife Center is a nonprofit sea turtle research, rehabilitation and educational institution that promotes conservation of ocean ecosystems with a focus on threatened and endangered sea turtles. The Center features an on-site hospital, research laboratory, educational exhibits and aquariums, and also operates the Juno Beach Pier, which hosts world-class angling and sightseeing. Situated on one of the world's most important sea turtle nesting beaches, Loggerhead Marinelife Center is open daily and hosts over 350,000 guests free-of-charge each year.
The Center's conservation team works with nearly 200 local and international organizations across six continents to form partnerships and share conservation initiatives and best practices that are core to its mission of ocean conservation. The Center is expanding and has launched its Waves of Progress capital expansion campaign, designed to accelerate and amplify LMC's conservation and education impact. When complete, the facility will offer one of the world's most advanced and unique experiences for guests and scientific partners. For more information, visit www.marinelife.org or call (561) 627-8280.