Gopher Tortoise – Celebrating Keystone Species
Celebrate The Keystone Species – The Gopher Tortoise
While Loggerhead Marinelife Center (LMC) primarily works with sea turtles, the Center helps protect the important keystone species, the gopher tortoise. LMC resides within a nature park flourishing with a natural hammock where gopher tortoises reside. When visiting LMC, guests will often walk by a gopher tortoise burrow located in the nearby hammock. On April 10th, the Center celebrates Gopher Tortoise Day as a way to draw attention to protecting these animals. In addition to conducting annual research studies on gopher tortoises, LMC recently received a grant to involve citizen scientists in monitoring the gopher tortoise population located within Loggerhead Park. Awarded by the Gopher Tortoise Council, the Donna J Heindrich Environmental Education Grant enables LMC to develop educational projects to raise awareness for and help protect the gopher tortoise. In honor of Gopher Tortoise Day, LMC invites curious individuals to learn more about this keystone species and participate in activities to help protect them.
The Gopher Tortoise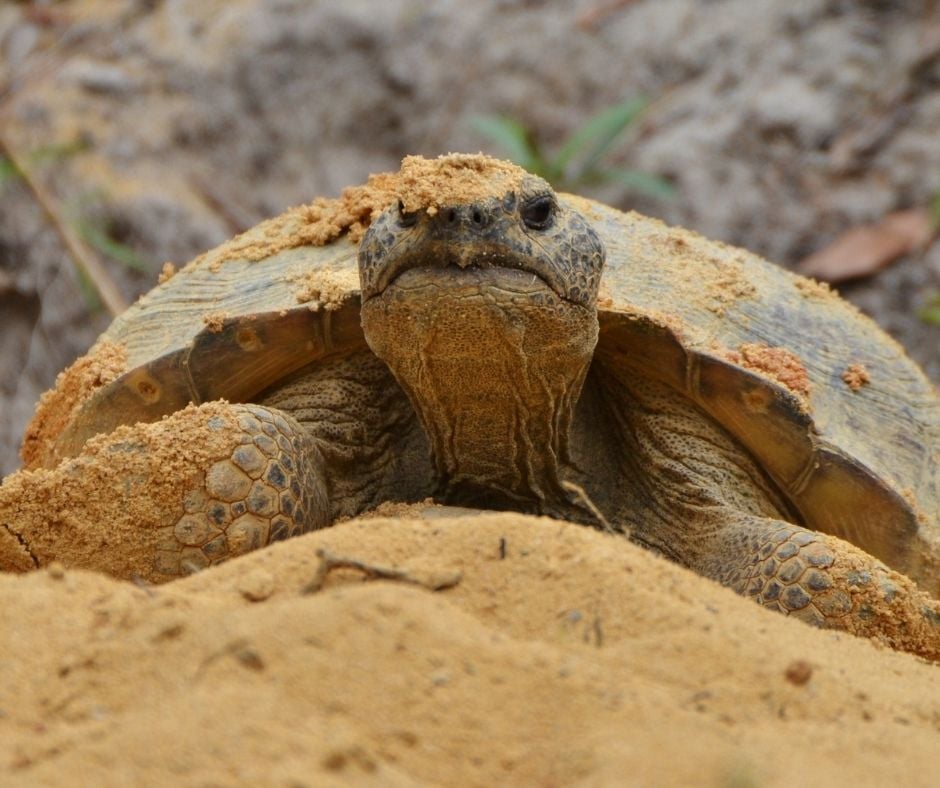 The gopher tortoise, Gopherus Polyphemus, is a tortoise found living in nearly every part of Florida – but unlike its sea turtle cousins, the gopher tortoise prefers to stay high and dry on land. It is one of five North American tortoise species and is the only tortoise naturally found east of the Mississippi River. Similar to the endangered species of sea turtles that frequent Floridian waters, the gopher tortoise is protected by the state and is considered a threatened species by the Florida Fish & Wildlife Conservation Commission (FWC). Occasionally, citizens will bring gopher tortoises to our Center thinking that they are sea turtles, but these animals are different. Gopher tortoises can be identified by their short, thick legs made for walking and burrowing, while sea turtles have flippers that are built for swimming. Unlike sea turtles, gopher tortoises are able to pull their limbs into their shells and use their strong, scaly front limbs as protection from predators.
Also, the gopher tortoise is known as a brilliant builder – their name "gopher" comes from their digging behavior and burrows, which are often seen in coastal sand scrub ecosystems. Their lives revolve around their burrows, spending up to 80% of their time there. Similar to sea turtles, gopher tortoises lay eggs. Their eggs are typically laid in a soft, sandy area near the entrance to the burrow, with females laying only 5-9 eggs per year. Gopher tortoises do not provide parental care to the hatchlings, and just as sea turtles have to use instincts to survive, so do gopher tortoise hatchlings. Appearances of the hatchling and juvenile gopher tortoises tend to be a yellow-orange color, which changes to a brown-gray as they age. Adult gopher tortoises typically reach around 40-60 years of age and can be up to 9-11" inches long.
A Keystone Species
These tortoises are considered a "keystone species." This means that they play a crucial role in their ecosystem, and other species depend on them for survival. According to FWC, there are an estimated 350+ species that rely on the tortoise's burrows – such as the gopher frog, Florida mouse, and many invertebrates would not have a place to live without the gopher tortoise! Burrows average 15 feet long and 6.5 feet deep, though they have been documented reaching up to 40 feet long and 10 feet deep. Similar to reptiles, gopher tortoises are ectotherms – animals that depend on their environment to maintain their body temperature. In order to maintain the ideal, stable conditions, they rely on their burrows for protection from extreme temperatures, weather, and even fire – as do many other species (FWC).
Gopher Tortoise Conservation
The gopher tortoise is a threatened species in the state of Florida and is therefore the species and its burrows are protected. According to National Geographic, specific threats to gopher tortoises include things such as:
Habitat loss
Vehicle strikes
Predation
Burrow destruction
Fire suppression
So how can you help gopher tortoises? If you see a gopher tortoise or its burrow, give it plenty of space. A tortoise relies on its burrow for survival, and getting too close to one can cause it to collapse or fill with sand. If you have a pet, make sure to keep them on a leash when in a natural area, and keep them away from wildlife. Despite our best intentions, dogs can disrupt or scare wildlife, and cause potential harm to the tortoise or its burrow. If you are lucky enough to see a tortoise wandering about a natural area, leave it be and do not put it into water. They cannot swim and could drown if placed into the water. Finally, if you need to assist a tortoise crossing the street, always take it in the direction it was heading, and never put it in your car or take it to a new location. To learn more about this animal, and its importance in the scrub habitat, check out the educational sign posted near the burrow entrance, which is located south of the main entry for the facility.
If you come upon a sick or injured gopher tortoise, call your local wildlife rehabilitation center or FWC. Please specify where the animal was seen/found so that it can be returned to its native area after treatment. NOTE: Loggerhead Marinelife Center does not treat sick or injured gopher tortoises.
———————–
Education. LMC's Education programs aim to empower and inspire individuals to engage in the conservation of the world's ocean by providing STEM-based knowledge and resources to take responsible action. For in-field, in-classroom, and virtual education experiences, please email Guest Services at reservations@marinelife.org.
———————–
One World. At Loggerhead Marinelife Center (LMC) we strive to be industry leaders in sea turtle and ocean conservation. Our work is focused on four core pillars, each focused on demonstrating measurable impact. Our team researches and rehabilitates sea turtles because sea turtles tell us the health of the ocean, which tells us the health of our planet. These critical indicator species serve as our global ambassadors for ocean conservation. In this blog, we invite you to dive into the depths of ocean conservation and explore our research efforts.
Our educator biologists aim to empower and inspire individuals to engage in the conservation of the world's oceans and ecosystems by providing STEM-based knowledge and resources to take responsible action. Donate to propel our mission and help save sea turtles.
———————–